ERIC LIDDELL: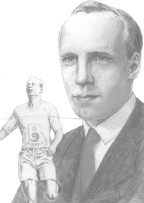 Olympic Champion and Missionary to China © 1997 Dave and Neta Jackson
Eric Liddell was born in China in 1902 to Scottish missionary parents. At age five he and his older brother Robbie returned to the British Isles to go to school in London. The two boys missed their parents and younger sister very much, but seemed to thrive in the boarding school for "sons of missionaries" (later renamed Eltham College).
It soon became apparent that the Liddell brothers were natural athletes. They played rugby and cricket and ran all sorts of track events: cross country, high jump, long jump, 100 yards, hurdles, and quarter mile. But running was Eric's favorite sport, and by the time he entered the university, people were starting to sit up and take notice of his amazing speed.
Eric and Robbie only saw their mother, sister, and baby brother every five years—but it was twelve years before they saw their father again. But when Mary and James Liddell did come home on furlough, they were able to spend one to two years with their growing sons before heading back to China again. The separation of the family was painful to both parents and children. Even though James and Mary were proud of the medals their second son was winning, they sometimes worried whether sports or God would take first place in Eric's heart.
In 1924, at the age of twenty-two, Eric became Britain's hope to win a gold medal at the Paris Olympics. But when the time came, Eric refused to run in his best events—the 100 and 220 meter races—because they were scheduled for Sunday. He was criticized in the press, but criticism turned to admiration when he ran—and won, and set a world record for—the 400 meter, a race he had barely trained for.
Scotland and the world had a new sports hero! So everyone was surprised when Eric announced that he was planning to return to China, the land of his birth, as a missionary teacher. And it was in China that he died of a brain tumor at the young age of forty-three while detained in a communist prison camp for foreigners just months before World War II ended. Besides a wife and three daughters, he left a legacy of simple faith, humility, and sacrificial service to the One Who was always the center of his life: Jesus Christ.
PERSEVERANCE
The Impossible Run
A spectator in the stadium at Stoke-on-Trent, England, poked his neighbor in the ribs. "Hey, look at that Scottish fellow shaking hands with his rivals—did you ever see such a thing?"
Sure enough, Eric Liddell was going up and down the line of other runners from England, Scotland, and Ireland, shaking hands and saying, "Best wishes for your success." Then he took the place he'd drawn: the inside track starting at the bend for the quarter-mile race.
The year was 1923, and Eric Liddell was a student at Edinburgh University studying science. But a friend, knowing Eric had excelled at sports in boarding school, talked him into trying out for the university's athletic events. Now people were saying he had a good chance to represent Britain at the Olympics in '24.
The starting pistol cracked and Eric got a good start—for about three strides. Then, suddenly, a runner named Gillies tripped and stumbled against Eric, pushing him off the track onto the grass. Sure that he'd been disqualified, Eric stopped, disappointment welling up in his throat.
But a motion caught his eye. The officials were waving him on! He wasn't disqualified after all. A quick look at the track showed Eric that the runners were a good twenty yards ahead already. Still, almost without thinking, Eric leaped onto the track, his legs pumping furiously.
"What's he think he's doing?" exclaimed the spectator in the stands. "No one can make up such a distance!"
"Look how he runs," laughed the man's companion. "Head back, arms flailing—he looks like a swimming circus pony!"
It was true. Eric's running style did look awkward. His head was thrown back, his hands stabbing the air, his knees pumping high like pistons. But to the spectators' astonishment, the young Scot inched past several of the runners and was in fourth place as they turned into the home stretch.
Gillies, the runner who had stumbled, had recovered quickly and was now in first place. And it was obvious to everyone that Eric Liddell's stubborn run had pushed him to the verge of collapse. Still, on he ran, gasping for breath, his legs pumping even higher, harder. In the last few seconds of the race, Eric passed the third place runner . . . then the second place . . . and in a last heroic push, he surged past Gillies and won the race by two yards.
The spectators in the stands erupted like a volcano, loud cheers filling the stadium. After breaking the finish line tape, Eric fell to the ground, completely winded, his muscles shaking like jelly. A stretcher was called, and Eric was carted off the track to the thunderous cheers of the excited fans, who had never seen such raw determination.
"How did you manage to win such an impossible race?" quizzed a newspaper reporter.
Eric managed a weak grin. "The first half I ran as fast as I could. The second half I ran faster with God's help."
Perseverance is finishing a task even when it looks impossible.
From God's Word:
Jesus looked at them and said, "With man this is impossible, but with God all things are possible" (Matthew 19:26, NIV).
Let's Talk About It
1. Why do you think Eric ran the race, even though it looked impossible to catch up?
2. What if Eric had not won first place, but came is second or third or fourth? What would you think of his race then?
3. Are you facing a task that seems impossible? What do you think you could do with God's help?
INTEGRITY
"I Can't Run"
"Hey, Liddell!" yelled one of Eric's Olympic teammates. "The schedule just arrived!"
The team representing Britain—from Scotland, Ireland, England, and Wales—had been eagerly waiting for the 1924 Olympic timetable, to see what days and times their sporting events had been scheduled. July was just around the corner, and soon the team would be heading for Paris.
"Two seconds! Your time's up," Eric joked, grabbing the timetable. He eagerly ran his finger down each day's events, looking for the 100 meter race, his best event. Suddenly the color drained out of his face, and he looked up at his teammates.
"I can't run," he said quietly.
"What?! Can't run? What are you talking about?"
"They've scheduled the first heats for the 100 meter on Sunday."
"So? What's the problem?"
Eric took a deep breath. "I don't run on Sundays. Sunday is for worshiping God, not sports. At least for me."
His teammates just stared, but no one scoffed at him. They respected Eric Liddell too much for that. Even the British officials, though dismayed, quickly tried to get the schedule changed—without any luck.
But when the news got out that Britain's brightest hope for winning a gold medal in the 100 meter race for the first time ever was refusing to run, others were not so kind.
"Why can't he run on Sunday and just dedicate the race to God?" some grumbled.
"He's a traitor to his country, that's what he is," others said darkly. "What kind of man would refuse to run for Scotland, just because the chosen day doesn't suit him?"
Newspapers chided him; people wondered why he was making such a fuss. But Eric Liddell wasn't making a fuss. He was just sticking to a commitment he'd made long ago, that he would honor Sunday as the Lord's day, a day of rest from work and sports.
Still, Eric was part of Britain's Olympic team, so he began training for the 400 meter race—not his strongest race. When the team arrived in Paris, newspapers were still criticizing his decision to not run in the 100. On Saturday, Eric marched with his other British teammates, dressed in their cream-colored pants, blue blazers, and white straw hats, in the opening ceremonies. But on Sunday, when the qualifying heats were run, Eric was speaking at a Scots Kirk (church) in Paris about his commitment to Christ.
On Thursday and Friday, Eric qualified in the initial races and the semi-final for the 400 meter, though his times were nothing special. Just before the final race, a trainer who respected Eric handed him a note that said, "In the old book [the Bible] it says, 'He that honors me I will honor.' Wishing you the best of success always."
Eric shook hands with his rivals, and lined up on the track for the final race. The pistol cracked . . . and when the race was over, Eric Liddell had not only won the 400 meter, but had set a new world record of 47.6 seconds!
The crowd roared. No one had expected a 100 meter man to run such a race. Criticism turned to admiration. Not only Scotland, but the world had a new hero—and new respect for a man who lived by what he believed.
Integrity is making choices that honor what you believe,
even when people misunderstand you.
From God's Word:
You must choose for yourselves today whom you will serve. . . . As for me and my family, we will serve the Lord (Joshua 24:15).
Let's Talk About It
1. What do you think about Eric Liddell's decision not to run in the Olympics on a Sunday? Would you have made the same choice? Why or why not?
2. Name someone you know who has integrity.
3. In what ways are you faced with choices between what others expect of you and what you believe?
SPORTSMANSHIP
The Flying Scotsman
In the 1920s, when Eric Liddell was racing for Scotland, there were no starting blocks at the starting line for runners; they had to dig a hole in the dirt with the toe of their shoes to help push off. Always full of good ideas, Eric kept a small trowel handy to dig the holes for his toes. Instead of keeping this advantage to himself, however, he would pass the trowel down the line to his rivals, so they could dig holes for their toes, too.
It was just the kind of man he was.
A few weeks before the 1924 Olympics, Eric ran in a Scottish inter varsity race. The day was cool and a stiff breeze was blowing. Eric noticed one of his rivals sitting beside the track in only a tank top and shorts, shivering. Taking off his blue uniform blazer, he draped it around the other student's shoulders and said kindly, "You must take care not to catch cold."
Just before an international competition, Eric noticed a black runner standing off by himself while the other runners laughed and talked with each other. Leaving the group, Eric went over and drew the loner into a friendly conversation.
One day, as Eric took his place on the inside track—the best position—for a 440-yard race, he saw that the man who had drawn the outside track was not a strong runner. At that time, there was no staggering to make up for the curves, so the outside man had to run further to win. Going over to the other runner, Eric asked if he could change places. "I always feel happier on the outside," he grinned.
Eric's courtesy to others even had a humorous side. When he went back to China as a missionary teacher, he continued to run races. To get to one event, he had to travel by ferry across the river from the city of Tientsin. The last ferry back left at three o'clock. To Eric's dismay, he discovered that his race was at 2:30—leaving only a half hour to get to the ferry. So he called a taxi and asked the driver to wait with his motor running at the stadium gate. At 2:30 Eric ran his race—and won. But as he broke the tape at the finish line, he just kept on running for the gate! Just then the band struck up God Save the King, the national anthem of the winner. Eric screeched to a halt and stood with the crowd in respectful silence. As the last note faded, off he dashed again . . . only to be brought to another halt as the band struck up La Marseillaise in honor of the Frenchman who came in second.
Finally he was in the taxi, which sped through the streets to the dock—only to arrive as the ferry was pulling away. Still in his running clothes, Eric sprinted along the dock, took a flying long jump over the fifteen-foot stretch of water, and landed in a heap on the deck. When the story got around of this amazing feat, Eric Liddell became known as "The Flying Scotchman."
Even though Eric was an Olympic champion, he never forgot that there were others who ran hard, ran fast, ran well. Remembering his teammates and rivals who did not come in first, he said respectfully, "In the dust of defeat as well as in the laurels of victory there is a glory to be found if one has done his best."
Sportsmanship is showing respect to others,
even "rivals" in a game or competition.
From God's Word:
When you do things, do not let selfishness or pride be your guide. Instead, be humble and give more honor to others than to yourselves (Philippians 2:3).
Let's Talk About It
1. How do you think Eric Liddell's Christian faith influenced his sportsmanship?
2. To have a winner, there must also be losers. What was Eric's attitude toward "losers"?
3. In what ways does Eric Liddell's example encourage you to show better sportsmanship?